2017: Winnipeg, Manitoba
More
2017: Beyond Boundares, Au-delà des limites (Winnipeg, Manitoba)
PDW 2017 was hosted by University of Manitoba in Winnipeg from January 4-7, 2017!
The University of Manitoba College of Pharmacy is excited to host Professional Development Week (PDW) 2017 in the beautiful city of Winnipeg! From January 4th to 7th, you will be welcomed to the Delta Winnipeg Hotel and the RBC Convention Centre for a week full of learning and networking opportunities!
At the conference we will be exploring the theme of "Beyond Boundaries" and learn how pharmacy is going above and beyond the current perception of a pharmacist. We feel that the pharmacy profession is ever changing and making incredible advances in the health care system, and the public is not yet aware of these changes; as the future of pharmacy, we must take on the responsibility to go beyond boundaries.
To start off the conference, we welcome you to an evening of cultural diversity with a spin on the Winnipeg tradition of Folklorama. You will be delighted by the beautiful cultural performances by our local talented dancers. To close the conference, dress to the nines and get swept away for a night at the Oscar's!
We will also feature Deri Latimer, a globally Certified Speaking Professional, who will inspire us to create happy, healthy, humane places to work and thrive. Bruce Kirkby, our motivational speaker, will talk about his adventures as an explorer, writer and photographer, and stress the importance of pushing ourselves to work beyond our comfort zones to achieve success.
We look forward to seeing you at PDW 2017!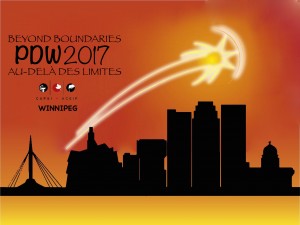 2016: Niagara Falls, Ontario
More
2016: Soaring to New Hights, S'élance vers de nouveuax sommetse (Niagara Falls, Ontario)
PDW 2016 was hosted by University of Waterloo in Niagara Falls from January 6-9, 2016!
Photo Gallery
The University of Waterloo School of Pharmacy is proud to be hosting PDW 2016, for the first time ever! From January 6th to 9th, 2016, we invite you to join us in beautiful and picturesque Niagara Falls Ontario, and journey with us as we take pharmacy "Soaring to New Heights."
Delegates will have a stunning view when they stay at the Sheraton on the Falls. All conference sessions will be held in their beautiful conference rooms and banquet halls. And with the best location on Clifton Hill (Canada's very own Las Vegas), delegates are sure to have fun both during sessions and on their free time. There's something for everyone and we're sure delegates will have a memorable time at PDW 2016!
As Waterloo is known for its innovative teaching styles and hands-on learning, we are striving to provide educational sessions that will take delegates away from the classroom and go beyond lectures that they may receive at school. The multiple streams will focus on uniting pharmacists across our country, providing information on drug abuse and how pharmacists can make a change, differing trends on pharmacy practice and mental health.
We will be transporting delegates involved in CAPSI competitions to our campus in Kitchener, where they will be using state of the art equipment for their competitions. Our professional practice laboratories will hold the OTC and counseling competitions, and our compounding laboratory will hold the compounding competitions.
Culture night will be a grand affair, as we bring Kitchener's renowned Oktoberfest festivities to Niagara! Delegates will enjoy traditional ceremonies and Bavarian folk bands while enjoying the night and making new friends. The night will conclude with the annual Mr. Pharmacy Pageant- Oktoberfest style.
The PDW 2016 Planning Committee is looking forward to your arrival in Niagara Falls in January 2016! Together, we truly can take our profession to great heights.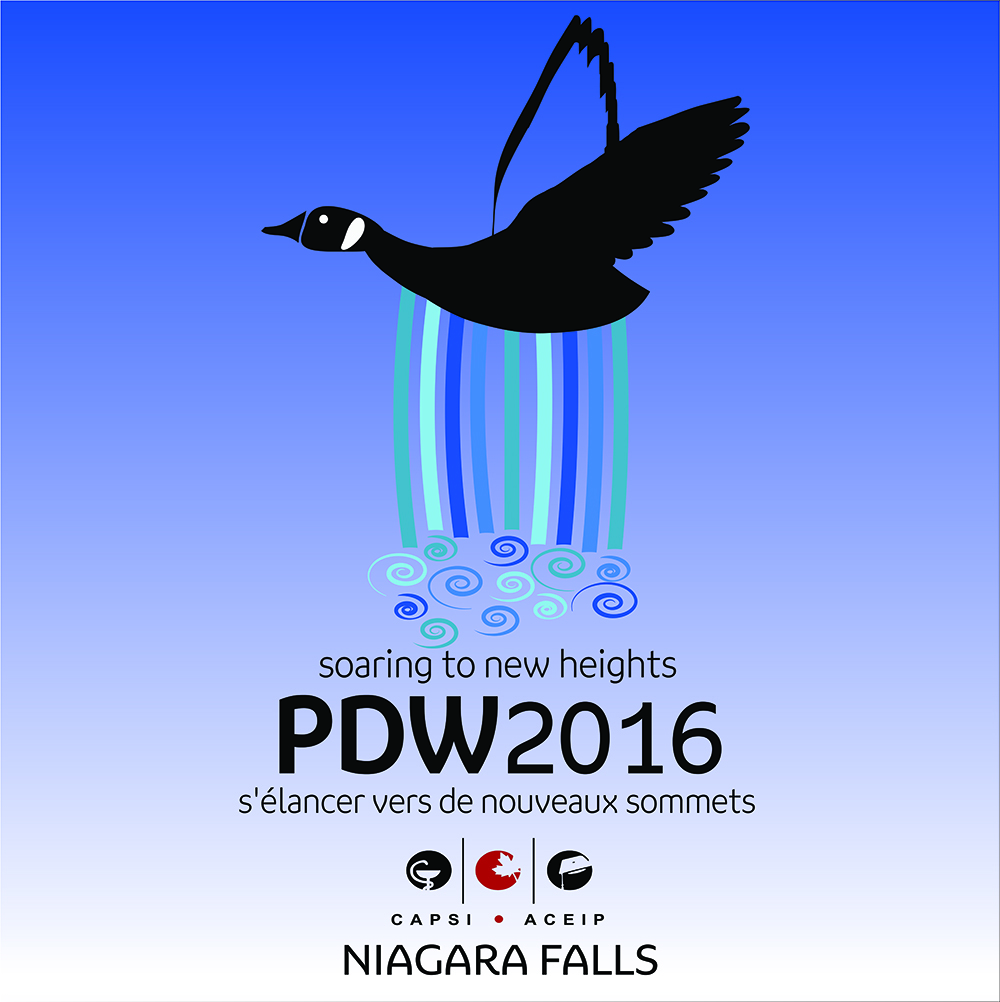 2015: Québec City, Québec
More
2015: Tous à bord vers de plus hauts standards, All aboard towards higher standards (Québec City, Québec)
PDW 2015 was hosted by Laval University in Québec City, Québec from January 7-11, 2016.
The Professional Development Week (PDW) is a unique occasion for pharmacy students across Canada to meet and exchange once a year. PDW 2015 will have a lot to offer to its delegates: stimulating conferences, the 1st edition of Mr Pharmacy Canada, and unforgettable social events.
2014: Vancouver, British Columbia
More
2014: Currents of Change, un Courant de Changement (Vancouver, British Columbia)
Welcome to CAPSI Professional Development Week 2014, Currents of Change! The Planning Committee is excited to welcome our future colleagues from across Canada to the heart of beautiful Vancouver, British Columbia.
As current students, we must possess the virtue of perseverance, embodied in our logo by the Pacific Salmon. The field of pharmacy has been expanding at an ever more rapid pace over the past decade. Surveying the many opportunities pharmacy can provide can be a daunting experience. Along with 700 other delegates, we hope to expose delegates to inspiring speakers and interact with key practitioners in the pharmaceutical world. Further, as the foremost conference for pharmacy students in Canada, many industry representatives will be on hand, providing invaluable networking opportunities.
The Planning Committee also wants to allow delegates the opportunity to explore the wonderful city of Vancouver. Since coming to the forefront of the world stage while hosting the 2010 Olympic and Paralympic Winter Games, this city has become a hub of entertainment and culture like never before. Our events will highlight some of the unique aspects of the West Coast, and we have some great events planned to get you out and about in the heart of downtown.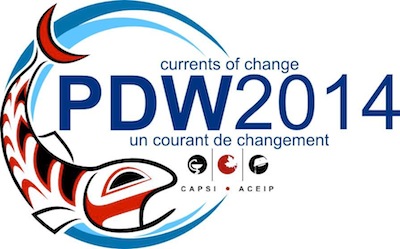 2013: Montreal, Quebec
More
2013: Un But Commun, A Common Goal (Montreal, Quebec)
Professional Development Week gathers many students from across Canada and we are proud to welcome close to 900 students in Montreal in 2013. Throughout the week, delegates have the chance to learn about various subjects. With students different backgrounds, PDW is an opportunity to share ideas, opinions, facts, experiences and views. This sharing is essential,as it helps determine " A Common Goal " and a way to reach it together. Despite the differences between one another, participants will gain knowledge allowing to become a better pharmacist, give better advice to future patients and, ultimately, improve the life of our patients as best as possible.
There will be a variety of interesting speakers for this years conference. The main speaker will be Sylvain Boudreau who is known to be one of the
best speakers in Quebec. He will introduce facts about customer service that will surely affect your everyday practice. There will also be Diane Lamarre, president of the Quebec order of pharmacists, Pharmacist without borders, Mathieu Giroux, an Olympic gold medalist in speed skating and a student in pharmacy in Montreal, Bernard Voyer, a motivational speaker who has travelled the North and South pole, as well as Jean-Yves Dionne an expert in natural health products among many others.
To conclude these jam-packed days and to encourage getting to know one another, some amazing evenings have been planned. The themes of the social nights will be " Charleston " , in reference to the well known Montreal Jazz Festival, " Nightlife " which will be in a nightclub in the center of downtown Montreal and finally " Sugar Shack " with a spectacular interactive performance by the Painchaud family that you would not want to miss. To conclude this conference in beauty and style, formal attire is required for the incredible "White Night" that you will never forget.
Finally "A Common Goal" is a theme that takes on a double meaning as our city is well known for its many sports fans, whether it be in hockey (Montreal
Canadians), football (Montreal Alouettes) or soccer (Montreal Impact). We are very proud to share our passion and love of sports with the delegates of
PDW 2013 by giving them the possibility to feel this enthusiasm in some of the sports bars nearby the hotel.
Francais:
La Semaine de Developpement Professionnel reunit plusieurs etudiants du Canada et est fiere d'accueillir pour 2013 a Montreal jusqu'a 900 etudiants. Durant la semaine, les delegues auront la chance d'en apprendre beaucoup sur des sujets varies. Avec des etudiants possedant diverses experiences et provenant de milieux differents, la SDP est aussi une opportunite de partager des idees, des opinions, des faits, des mises a jour, etc. Ce partage est essentiel car il aide a determiner notre But et de l'atteindre ensemble. Malgre les differences, les participants veulent acquerir ces connaissances afin de devenir de meilleurs pharmaciens dans le futur, de donner de meilleurs conseils aux patients, et, finalement, d'ameliorer la vie de nos patients du mieux que nous pouvons.
Pour terminer ces journees chargees et continuer les echanges, nous avons planifie des soirees des plus agreables. Les themes de ces soirees sociales seront "Charleston", en lien avec le prestigieux Festival de Jazz de Montreal, "Nightlife" dans une boite de nuit du centre ville et
Cabane a sucre avec une prestation interactive spectaculaire de la Famille
Painchaud que vous ne voulez pas manquer. De plus, pour finir le congres en beaute et en style, sortez vos plus beaux habits et preparez vous pour le grand "Bal en blanc" qui sera sans aucun doute memorable.
De plus, le theme "Un but commun" prend un double sens pour Montreal puisque cette metropole est aussi connue pour ses partisans sportifs que ce soit au hockey (Canadiens de Montreal), au football (Alouettes de Montreal) ou au soccer (l'Impact de Montreal). Nous sommes fiere de partager notre passion des sports avec les delegues de la SDP 2013 en offrant la possibilite de vivre l'ambiance dans certains bars sportifs pres de l'hotel.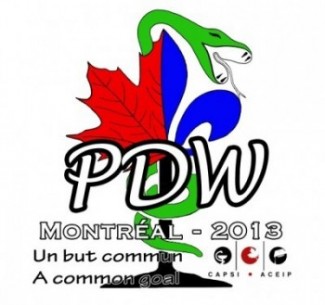 2012: Halifax, Nova Scotia
More
2012: Oceans of Opportunity, Des oceans d'opportunites (Halifax, Nova Scotia)
Welcome to Pharmacy Development Week 2012 hosted in Halifax, Nova Scotia! We will introduce you to the 'Oceans of Opportunity' that are available to us as students that will help define the value of our profession and move it forward into the future. The conference will focus not only on where the profession of pharmacy is headed but what each and every one of us can do at this moment to make our careers as fulfilling as possible. Through presentations from speakers and interactive workshops we will challenge your perception of the profession and inspire you to take action to make these changes a reality.
As another step toward the future we aspire to host an eco-friendly conference by reducing paper use and waste. In order to help this happen we are encouraging delegates to bring along and share their laptops as all hotel rooms are equipped with free Wifi and all conference material will be made available electronically.
The Maritimes have an extremely unique seaside culture, one that is notorious for our warm-hearted, fun-spirited people and our inspiring nightlife. With more pubs, clubs and bars per capita than anywhere else in the country and with an unparalleled love for a good kitchen party – we thought we would throw one for you! While we?re at it we will introduce you to other Maritime classics like highland dancing, fiddlers, Celtic music and much more!
So come test out the waters, get your feet wet – maybe dive right in! We are looking forward to your visit and promise you will not be disappointed!
Check out the PDW 2012 website for more details!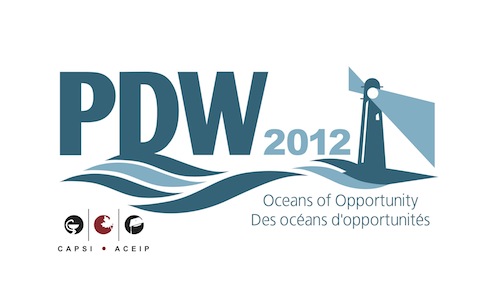 2011: Saskatoon, Saskatchewan
More
2011: Wide Open Future, Un Avenir Sans Limite (Saskatoon, Saskatchewan)
The College of Pharmacy and Nutrition at the University of Saskatchewan is proud to host pharmacy delegates from across the country in Saskatoon for Professional Development Week 2011 from January 12-16. The conference will take place at the TCU convention center in downtown Saskatoon with premier accommodations just blocks away. This year's theme for PDW is "Wide Open Future, Un Avenir Sans Limite" referring to the endless possibilities available to future pharmacists. With the emergence of prescribing opportunities, the shift toward primary healthcare teams, and the newly-sharpened focus on pharmaceutical care, there are many exciting directions for the profession to take. PDW 2011 hopes to accentuate these vast and varied opportunities within the field of pharmacy.
PDW 2011 promises to be a thought provoking and exciting experience. This year's Motivational speaker is Catriona Le May Doan. The Olympic gold medal winning speed skater currently holds the Olympic record for the 500m long track race and during her career broke 13 world records. She is a spokesperson for the Saskatchewan Blue Cross, as well as various other community and charity associations. Keynote speaker Steven Lewis is health policy and research consultant based in Saskatoon, and adjunct professor of Health Policy at the University of Calgary and Simon Fraser University. He has also served on numerous boards and committees, including the Canadian Institutes of Health Research's Governing Council, the Saskatchewan Health Quality Council, and the Health Council of Canada. There are numerous other speakers who promise to stimulate thought, inspire and challenge students to think about where the future of healthcare in Canada is headed.
After taking in all the conference has to offer during the day, delegates will have the opportunity to interact with other pharmacy students and interns from across Canada at the numerous social events. Saskino Royale, the opening night gala, has a James Bond theme and affords delegates the chance to spin fortune's wheel in their finest black tie attire. On the second night delegates are invited to one of Saskatoon's finest nightclubs to experience the Wild Wild West. On Friday night come experience true prairie spirit and dance the night away to the "Last Saskatchewan Pirate". On the final night of the conference delegates are invited to create their own happily ever after at our Fairytale Formal.
Don't miss out on your chance to experience a small prairie city with a lot of spirit and learn from some of the country's leaders in the allied health care fields. We look forward to seeing you in Saskatoon for Professional Development Week 2011!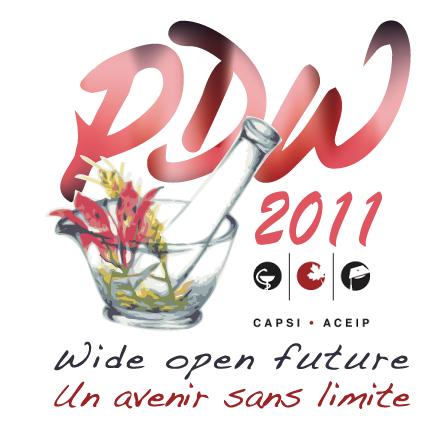 2010: Toronto, Ontario
More
2010: Meeting in the Middle (Toronto, Ontario)
For photos of PDW, check out our photo album
The Leslie Dan Faculty of Pharmacy at the University of Toronto would like to invite Pharmacy delegates to PDW 2010! Professional Development Week 2010 was held January 13th to 16th, 2010 at the Sheraton Centre Toronto Hotel, in the heart of downtown Toronto. The theme for this year's conference was Meeting in the Middle, which stemed around the collaboration and compromise required to optimize patient healthcare needs, as well as the global, professional and ethical issues arising in our changing profession.
PDW 2010 was an exciting event with all the educational and inspirational speakers motivated and advanced your knowledge in the field of pharmacy. This year's keynote speaker, Dr. James Orbinski, has been providing medical care to victims of war, famine and genocide and has accepted the Nobel Peace Prize on behalf of Medecins Sans Frontieres, or Doctors Without Borders. Special guest speaker Dr. Allison McGeer, a microbiologist and Director of Infection Control at Toronto's Mount Sinai Hospital, worked on the front-line during the SARS crisis in Toronto and shared her experiences during this tragedy.
Aside from the amazing speakers PDW 2010 has to offer, delegates enjoyed all of the social events lined up. Come encounter the most multicultural city in the world at the opening night gala, A World Within a City. Experience the bright lights of the big city at one of the premiere dance clubs in downtown Toronto, Lot 332. Put on your blue and red and get ready for the high-energy, fast-paced excitement of the Toronto Rock, Toronto's very own professional Lacrosse team at the renowned Air Canada Centre. Don't forget to bring your retro prom dress, as best dressed will be crowned honorary PDW Prom King and Prom Queen at this year's closing gala high school prom. These are just some of the thrills that made PDW 2010 an incredible experience!
If you'd like more information visit our website at http://www.pdw2010.uoftpharmacy.com/ or contact the committee at pdw2010@phm.utoronto.ca for more information.
2009: St. John's Newfoundland
More
2009: A New Found Land of Responsibility (St. John's Newfoundland)
The Memorial University School of Pharmacy will be host to PDW 2009! CAPSI's Professional Development Week 2009 will take place January 14th to 17th 2009 at the Delta St. John's and Convention Centre. The theme for PDW 2009 is A New Found Land of Responsibility. The theme focuses on the atmosphere of change that surrounds the profession of pharmacy; pharmacists are increasingly seeking to expand and maximize their role on the health care team. This theme will be explored by speakers with topics including a keynote presentation on the social-psychological role of pharmacists by Dr. Karen Farris, smoking cessation, a panel discussion on AIDS and much more. Motivational speaker Geoff Eaton, a cancer survivor and founder of RealTime Cancer, will speak with delegates about overcoming challenges and the power of a positive spirit. Beyond the speaker line up for PDW 2009, fun awaits at the social events! No conference in St. John's would be complete without a trip to George Street! Two of the hottest bars in the city are booked for this event. And there's more fun at Newfie Night with a concert by musical comedy group Buddy Wasisname and the Other Fellers followed by a down home dance and party. These are just some of the events that are sure to make PDW 2009 an unforgettable experience! There's room for only 850 delegates so be sure to register early! If you'd like more information visit our website at www.mun.ca/pdw2009 or contact the committee at pdw2009@mun.ca for more information.
We can't wait to see you in St. John's for PDW 2009!
PDW 2009 Planning Committee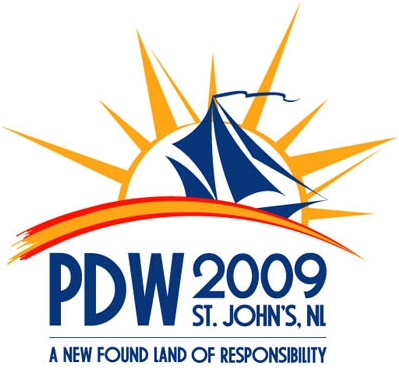 2008: Edmonton, Alberta
More
2008: Empowering our Patients (Edmonton, Alberta)
The University of Alberta's Faculty of Pharmacy and Pharmaceutical Sciences is proud to host CAPSI'S Professional Development Week, January 16-19, 2008 in Edmonton. The theme for PDW 2008 is 'Empowering our Patients.' This theme focuses on how to motivate patients to take responsibility for the maintenance of their health, while taking an active role in their medication therapy. As first line healthcare professionals, we can influence and educate our patients to become self-aware about their current state of health, through repeated interactions with patients in community and hospital settings. This theme will be explored through various avenues such as, speakers discussing the relevance of pharmacist interventions, chronic conditions of the present and future, as well as workshops to enhance patient care skills when working with diverse populations.
In addition to our exceptional academic lineup, we have many exciting social events planned. A night at West Edmonton Mall's World Waterpark is just one of the many events that are sure to please.
With spots for only 800 delegates, be sure to register early.
Visit our website www.pharmacy.ualberta.ca/PDW2008/ or contact us atPDW2008@pharmacy.ualberta.ca for more information.
We look forward to seeing you in Edmonton!
PDW 2008 Planning Committee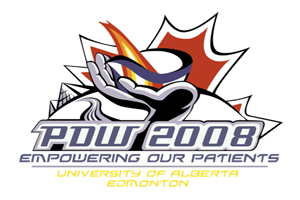 2007: Winnipeg, Manitoba
More
2007: Embracing Diversity: Putting the Pieces Together (Winnipeg, Manitoba)
The University of Manitoba's Faculty of Manitoba has the privilege of hosting Professional Development Week, January 17-21, 2007. This annual national student conference is open to members of the Canadian Association of Pharmacy Students and Interns (CAPSI) and promises to be the most exciting and educational in PDW history!
Up to 1000 students from across the country will have the opportunity to explore the profession of pharmacy with the conference theme Embracing Diversity: Putting the Pieces Together. The educational portion of will include talented and dynamic speakers who are experts and leaders in a wide range of fields including economics, business, microbiology, forensics and hospital & community practice. Opening the conference will be Keynote Speaker, Myrella Roy, who currently serves as the Executive Director of the Canadian Association of Hospital Pharmacists and will speak on her experiences with Pharmacists Without Borders. Closing the conference as a Motivational Speaker will be Stephen Lewis (UN Special Envoy for HIV/AIDS in Africa).
Aside from the great line-up of speakers, students can also participate in several competitions such as compounding, patient interviews, essay and pharmafacts. The conference also offers many fun-filled social events that allow students to meet their future colleagues from across the country.
The PDW 2007 Planning Committee is looking forward to January 2007 and hosting this conference with the spirit and hospitality Manitoba is known for! For more information please contactpdw2007@hotmail.com or visit our website at http://pdw2007.umphsa.ca.

Adrienne Dufour & Cheryl Shaver
PDW 2007 Planning Committee Chair & Vice Chair
2006: Montreal, Quebec
More
2006: Pharmacy: An Olympic Challenge (Montreal, Quebec)
As you may know, in the winter of 2006, the Olympic Games will be taking place in Turin, Italy. It is with this in mind that the theme of the 2006 PDW was conceived: Pharmacy : an Olympic challenge!Pharmacists and pharmacy students face several obstacles and challenges on a daily basis. As such, the main goal of this year?s Professional Development Week is to provide future pharmacists with indispensable tools to surmount these obstacles and challenges. The organizing committee has worked incredibly hard to plan an exciting week filled with various academic and socio-cultural activities. Furthermore, we hope that this event will bring together pharmacy students from across Canada to establish new bonds and exchange ideas and visions about the profession. We can?t wait to see you in our gorgeous city of Montreal in January 2006. Please, feel free to visit our web site:http://www.aepum.umontreal.ca/PDW2006 to obtain a more detailed description of the conference itinerar
2004: Vancouver, British Columbia
More
2004: Beyond the Peaks of Possibility (Vancouver, British Columbia)
Professional Development Week 2004 brought pharmacy students from across Canada together in Vancouver, British Columbia, to give them an introduction, motivation, and inspiration to find their niche in pharmacy. Guest speakers from all corners of pharmacy shared their wealth of experience with all those in attendance. Students were pushed to discover where in the profession they would be most valuable and challenged to step beyond the parameters of practice previously set by pharmacists before them. PDW 2005 was a success on all accounts and every attendee left with great memories and more knowledge than they had ever hoped for.
2003: Halifax, Nova Scotia
More
2003: Time To Practice (Halifax, Nova Scotia)
Over 650 CAPSI members from across Canada came together from January 22nd-26th, 2003 for Professional Development Week 2003. The conference was hosted by students from Dalhousie University and was held along the Halifax waterfront at Casino Nova Scotia Hotel. During the days of the conference, student pharmacists participated in CAPSI competitions at the George A Burbidge Building at the College of Pharmacy at Dalhousie University and attended a variety of educational presentations.
The conference started on a high note with an empowering message from the keynote speaker, Dr Charles Hepler. A variety of clinic breakouts were held to update students' knowledge on emerging therapies and clinical guidelines. CAPSI saw the return of one of their former Presidents, Mike Sullivan, who provided students with a overview of financial strategies that may help make the financial transition from student pharmacist to practicing pharmacist easier. The motivational speaker, Mr Alvin Law, concluded the conference with an extremely emotional presentation and left students questioning their own capabilities and limits. Although the conference delegates worked hard by day, they certainly partied the night away at the opening ceremony at Pier 21, the Night Out in Halifax, the Nova Scotia Ceilidth and the final Banquet. PDW 2003 celebrated the 35th Birthday of CAPSI?..CAPSI we are looking forward to another 35 great years, congratulations on this milestone!!! Overall PDW 2003 was a tremendous success. The organizing committee would like to thank all CAPSI members who attended as well as the support from their very generous sponsors who made the event possible.
2002: St. John's, Newfoundland
More
2002: Navigating our Future (St. John's, Newfoundland)
Memorial University est fière d'être l'h?te de la SPP 2002 et de promouvoir l'excellence au sein de notre profession. Notre thème "Naviguons vers l'avenir" reflète notre vision particulière en tant qu'étudiants en pharmacie, celle de déterminer notre propre destin?e, de mettre en ?uvre les principes dont s'est dot?e notre profession et d'acquérir les compétences requises pour l'exercer. Le programme de la conférence comprend des présentations par des conférenciers novateurs, des discussions de fond et des concours de l'ACEIP! Les thèmes abord?s englobent la préparation au monde du travail, les conseils aux patients, l'éthique et le réseau interdisciplinaire, la pharmacie consultative, la pharmacie gériatrique, les formes pharmaceutiques (spécialités) et la pharmacie électronique. Au plaisir de vous rencontrer à St. John's.
2001: Saskatoon, Saskatchewan
More
2001: A "Whole-istic" Approach (Saskatoon, Saskatchewan)
PDW 2001 was the third-ever Professional Development Week hosted by the University of Saskatchewan in Saskatoon; a very unique college combined with the profession of nutrition! On this note, the innovative theme for this conference was Pharmacy ~ A "Whole"~istic Approach, held from January 31st to February 3rd. The attending delegates were fortunate to experience Saskatoon through the flavor of some of the educational seminars – non-traditional therapies such as aboriginal medicine, aromatherapy, homeopathy, as well as more traditional approaches. Hot topics consisted of pharmaceutical biotechnology to seamless care. Dr. Blair Voyvodic concluded the excellent array of speakers, and lightened the mood on Saturday morning, by reconnecting us with our chosen profession, and helping us remember how to have fun!
2000: Toronto, Ontario
More
2000: Ad unum omnes / Everyone to one (Toronto, Ontario)
One of the most successful PDWs' in recent years, the Toronto PDW organizational committee did an excellent job. Many of us were amazed at the sheer determination of Laurie Skreslet as he told of his experiences when climbing Mount Everest. Not to mention the heart felt talk of Jean-Marc Chabut who reminded us about the role a pharmacists plays in making this world a wonderful place. The Colony Inn Toronto was the site of one of the most highly attended Annual General Meetings in recent PDWs. Toronto was also the site where a few CAPSI members got to play hockey with Mike Myers.
1998: Halifax, Nova Scotia
More
1998: Pharmacation: promoting life-long learning (Halifax, Nova Scotia)